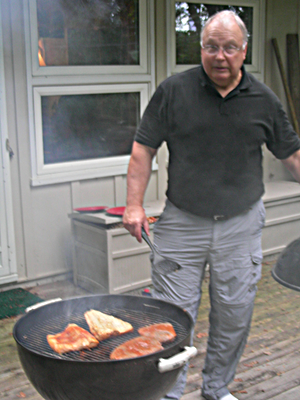 During our stay in Michigan, we had two fantastic dinners cooked on the grill.  The first meal emerged from the heat of our Uncle Lawry's grill in Ann Arbor and the second meal came from his son (our cousin) Johnny's grill in Detroit.  We enjoyed spending some quality back-porch time with these two accomplished grillers and we picked up some serious pointers on  seasoning, shopping, and grill culture along the way!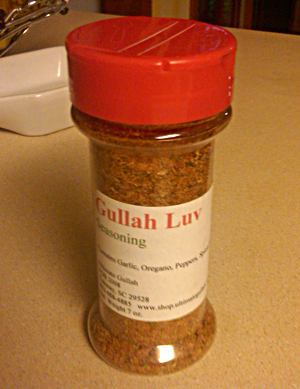 Uncle Lawry introduced us to his favorite grill seasoning–Gullah Luv!  Gullah Luv is a spice blend created and produced by the Gullah people of coastal South Carolina whose unique culture preserves African traditions through language, music, storytelling, crafts, farming, fishing, and of course, cooking!  The spice blend has a sweet aroma of garlic and peppers, aromatic herbs, and a spicy kick.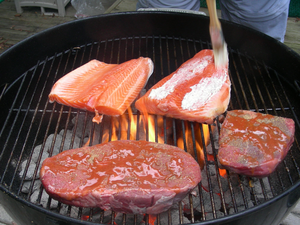 Lawry used Gullah Luv to season his steaks and salmon fillets before splashing on some Franks Red Hot Sauce and launching them onto his fired-up grill.  He also made another of his signature salmon recipes by mixing mayonnaise, grainy mustard, crushed garlic, and dill together which he generously slathered on the salmon before and after grilling.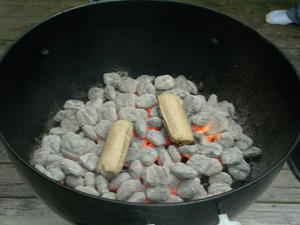 To fuel his Coleman grill, Lawry uses an economical and fragrant blend of regular charcoal and hardwood briquettes.  Instead of using only the hardwood briquettes to fire the grill (which is recommended on the bag) Lawry uses regular charcoal for heat and adds a couple of the hardwood briquettes for flavor to throw a ton of sweet hardwood smoke flavor into the mix.
After a few minutes on the covered, billowing  grill and a few confident flips from Lawry, the steak and salmon came off the grill mouth-wateringly charred on the outside and moist and juicy on the inside–just the way I love it!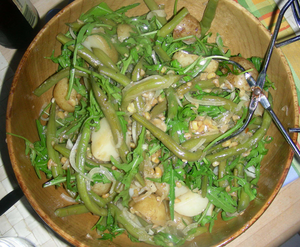 To accompany the grilled fare, we sliced some heirloom tomatoes and ciabatta bread and made a potato and green bean salad with market arugula, onion, and vinegar (not great for color, but awesome for flavor) for a dinner that Aunt Lynn said was one of the best she ever had!
The following day, we drove to Detroit to spend a day with Johnny.  Early in the day Johnny took us to Eastern Market near his house to check out some of the best food purveyors in Detroit.  Upon entering the huge meat market at Eastern Market, I was impressed by how busy it was.  We were here on a weekday afternoon, and the place was really bustling.
Glass display cases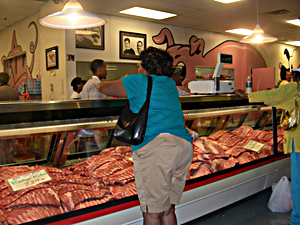 jam-packed with bright red cuts of beef, pink pork ribs, fresh-stuffed sausages, and vibrant Amish chicken stretched the length of the warehouse-sized building, and people were lined up to purchase their favorite meat or poultry.  Amanda got a great deal on some incredible chicken and sausage for our next camping trip, and Johnny got some giant T-bone steaks for us to grill that night!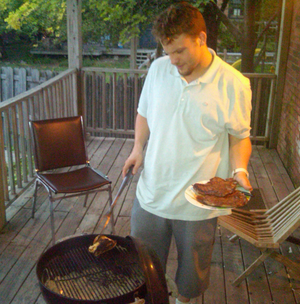 Back at the house, Johnny poured us his favorite cocktail of Grey Goose Vodka and cranberry juice.  We sipped this delicious (and deceivingly powerful) concoction as we fired up the grill.  As we sat on the porch, Johnny reminded us of a current advertizing slogan "slow down and grill."  Johnny agrees with this slogan and appreciates the enjoyment and relaxation that grilling can induce.  "There is not that much else to do in Detroit" Johnny says, and he often has friends over to grill, eat, and hang out.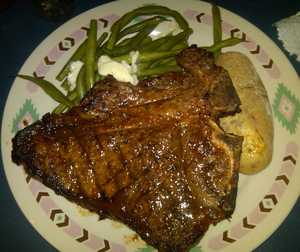 I enjoyed this time too, sipping on my Grey Goose and cranberry as the charcoal burned down and the sun began to set.  Eventually we sat down to a satisfying dinner of our grill steaks slathered in A-1 steak sauce with baked potatoes and steamed green beans (tossed with vinegar, of course) and for one precious evening, all was right with the world.