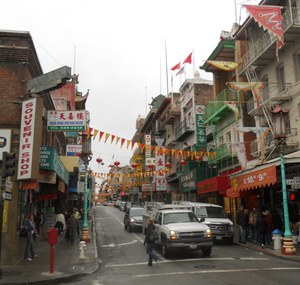 Amanda and I are always thrilled to explore and eat in the Chinatown of any city, but there is nothing to compare to the excitement, energy, and abundance of great food that can be found in the Chinatowns of New York City and San Francisco.
In New York, Manhattan's bustling Chinatown is packed with in-your-face sensual thrills.  The fish vendors on Grand Street entice locals and shock  tourists with a pungent combined stench of fresh and dried fish of all varieties.  Vibrant displays of fruit and produce catch the eye as pedestrians concentrate on maneuvering through the bustling crowds of people and traffic that ceaselessly jam the streets and sidewalks.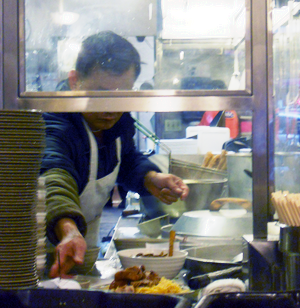 Across the East River in Queens, Flushing's Chinatown is less flashy and fragrant but offers delights that are even more delectable.   Here in Flushing, some of the greatest culinary treasures on the East Coast can be found hidden in underground food courts and tiny hole-in-the-wall dumpling shops or proudly displayed in the grand restaurants and dim sum palaces.
Of course, the West Coast has the many great Chinatowns too.  But of all the amazing Pacific  Chinatowns that we visited, San Francisco's Chinatown crowns them all.   Perched on a steep San Francisco hillside, this sloping Chinatown has a feel like none other.   This section of the rainy city is in a constant bloom of bright colors.  Red and yellow flags and lanterns soar above the main avenues.  On the steep side streets and stores sparkle with all manners of jade, gold, sliver, colorful fabrics, paintings, and polished wood.
As we searched for San Fra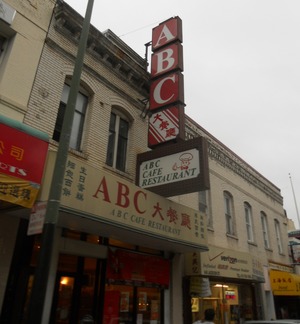 ncisco's Chinatown, driving down the gray waves of San Francisco's landscape we spotted a beacon of a restaurant wrapped in red and gold signaling that we had discovered the edge of Chinatown.  Turning the corner we were greeted by fresh gingered aroma of Chinese cooking beckoning us to find the best restaurant around.
But we did not want your average, shiny American tourist Chinese food.  We wanted the real stuff.  We wanted to eat where the locals ate.  Luckily we stopped to ask a friendly shop owner where she like to eat–and she told us ABC Kitchen.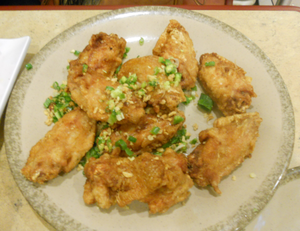 We knew that ABC Kitchen was A-OK because it was packed with locals!  Steaming soups and platters of sticky, shimmering meats atop boiled vegetables and noodles was the fare and we wasted no time in ordering some appetizers.
Our friend Erin joined us in digging into a plate of refreshingly simple Chinese-style  deep fried chicken wings.  Instead of a sauce, these wings were tossed with a sharp and fiery mixture of chopped garlic, scallions, and spicy red pepper.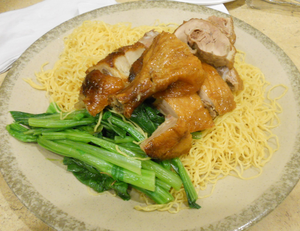 Amanda ordered a plate of lo mein noodles topped with sweet, salty, Peking duck.  This bird had a crisp skin and juicy meat that was cooked and served on the bone and chopped into manageable, delectable rectangles.  This flavorful meat was perfect served alongside the comforting, chewy noodles and slightly bitter steamed greens.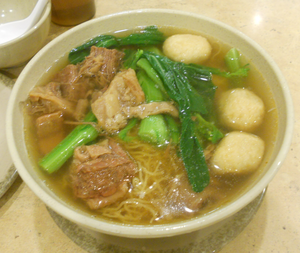 Erin and I were feeling like soup on that rainy San Francisco day.  Erin  ordered a bowl of pork dumpling and noodle soup. I had a catch-all bowl of noodles that included chunks of pork , greens, fish balls.  The noodles were chewy and plentiful alongside the rich and tender pork and toothsome  fish balls.  All this was encompassed by the soup's rich, silky, transparent broth.
Each Chinatown from coast to coast have its own unique variations of sights, smells, flavors, and sounds to excite and enliven the senses.  Less apparent but always present is a common vibration of excitement that hangs in the air of every great Chinatown.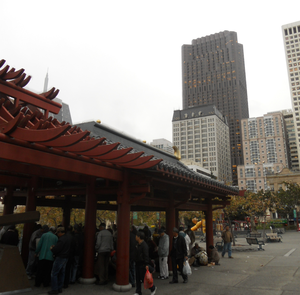 A crowd of people playing Ma Jong in a park, ladies speeding by pulling small shopping carts by on their way to or from the market, a busy restaurant where the seats are never empty, the wok chefs who never stop cooking, or shop keepers who are always on the lookout for the next customer to come in off the street— the workers and residents fill these sections of their cities with a spirited energy that knows no bounds.