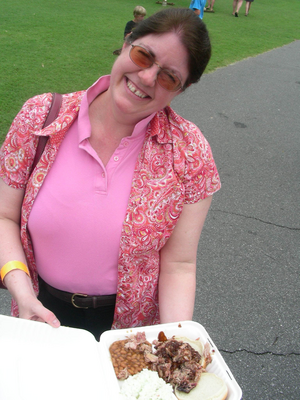 Nothing says summer like barbeque and here in North Carolina, they know how to do it right.  People come from all over to attend the Tryon BBQ festival and luckily we were able to be there to sample delicious ribs, brisket, pulled pork, chicken, coleslaw, beans, and hush puppies along with plenty of bands and beer to boot!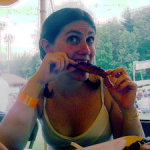 Tucked away in the Smokey Mountains of Western North Carolina, the steamy green mountains frame the landscape and day lilies bloom on the roadsides of Tryon.  The town is quiet this weekend, but the sounds of rock and roll and wafts of smoke direct us to where the action is taking place.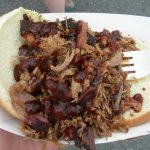 We first tried some pulled pork and beef sandwiches from the Texas Rib Rangers.  The meat was tender and smoky, with a touch of vinegar.  The sauce was dark from molasses and spicy from chipotles and black pepper.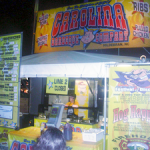 We had pork ribs from Cool Smoke from Richmond Virginia, Carolina Barbeque Company, and Texas Rib Rangers.  The ribs from Carolina Barbecue Company were our favorite.  Their ribs were crusty and slightly charred on the outside and wonderfully tender, juicy, and meaty on the interior.  The sauce was sweet, with a tomato-vinegar twang.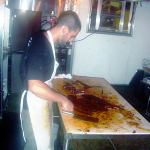 There was a competition-cooking area where ribs were not sold to the public.  This is where they may have had the best barbeque at the festival.  If you are lucky, these guys and gals might just let you taste some of their award-winning 'que.  Our uncle Mike was lucky enough to try some of the brisket from the competition area which was "tender as a baby's butt!"
Our day was hot and sweaty, but cold beer and great times with great barbeque was a great incentive to brave the heat.  Music played late as the evening cooled off and everyone danced, laughed, and ate great food with friends and family.