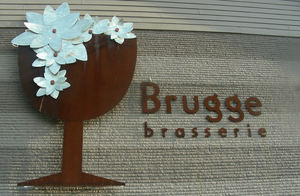 Mussels, beer, fries, and crepes are abound at Brugge Brassiere in Indianpolis, Indiana.  It's Belgium via Broad Ripple, the culturally diverse neighborhood that is home to many Colts football-friendly sports bars as well as many of the city's best locally-owned restaurants.  We made a special trip to Broad Ripple to eat at Brugge with Megan and Ben during our most recent stay in Indianapolis.
From the bar at Brugge, we enjoyed house-brewed Belgian style beers.  I had the Abby Dubbel, a dark stout-like beer that had a rich, slightly bitter taste a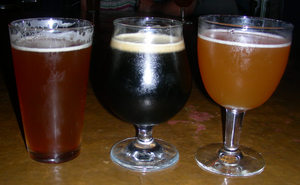 nd flavors of roasting coffee and the distinctive and unusual aroma of funky cheese!  Ben had the Triple de Ripple that packs a high alcohol-punch, creamy mouth feel, and roasted nut and floral flavors.  Be careful though–this strong beer may just knock you out after a few rounds!
At the table, Brugge's signature fries or "frites" arrived in paper cones and were accompanied by an all-star lineup of unique and seductive sauces.  Garlic aioli, blue cheese, house made ketchup, and horseradish were some of our favorite dips, and the fries were as fresh and crisp as could be.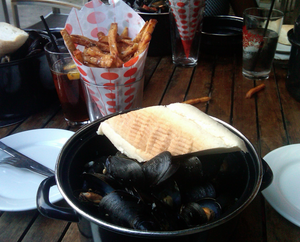 Covered black pots were also brought to the table, their lids opened to reveal steaming, fragrant mussels and a thick hunk of French bread.  Red curry, Jamaican jerk, beurre blanc, and Provencal were the flavors infused into our respective mussels.  I enjoyed Jamaican jerk mussels and used bread to sop up every last drop of their delicious juice.  The jerk seasoning was hot with chili and aromatic with herbs and spices.  A squeeze of a whole lime into the pot gave the mussels an acidic flavor and fresh kick.
Eating the mussels proved to be an enjoyable way to spend time together with Amanda, Megan, and Ben.  We ate together for a long time without becoming too full; the mussels provided a constant reward of tiny delicious morsels and never in to-large-a-mouthful to inhibit conversation.  The addition of rich Belgian brews ensured that good conversation flowed like beer from a tap!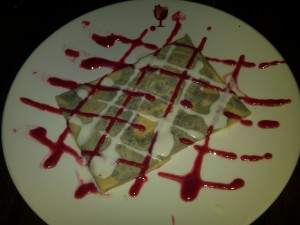 An array of savory and sweet crepes are in the Brugge playbook as well.  For dessert, we indulged in the Nutella crepe.  The gooey chocolate-hazelnut interior was wrapped in the thin, tender crepe and checkered with raspberry sauce and mascarpone cream.  Shared between the four of us, this packet of richness was just the right dose of sweetness to cause our taste buds to do a victory dance!
Brugge Brassiere in Broad Ripple offers beer and bistro food that is a "step up" from the many large sports bars that dominate this area.  At Brugge, the main event is always great beer, food, and conversation.  We took our time picking mussels from their shells, dipped fries into various delicious sauces, savored rich Belgian beers, and even stuck around for dessert to send our meal into overtime.  At Brugge, everyone is a winner!