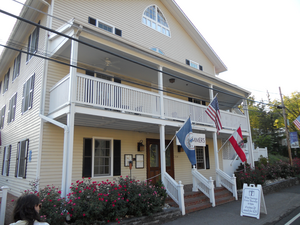 Before traveling in Virginia I never expected much from it, but while experiencing this grand old state I began to fall in love with the rich history, the beautiful landscapes, and the wonderful food there.  On one particular stretch of road that delivered us to the restaurant Trummers on Main in the town of Clifton, Virginia  I became captivated by the charms of this extraordinary southern state.
The road to Clifton, Virginia was previously traveled by great men such as Abraham Lincoln, Ulysses S. Grant, and Robert E. Lee. During time of the Civil War Clifton was a refuge for weary travelers—a place that offered shelter, food, and drink to those en route to cities such as Washington or Richmond.  Years later Presidents Arthur, Hayes, and Teddy Roosevelt all visited Clifton to escape the pressures of Washington, and they stayed at the Clifton Hotel.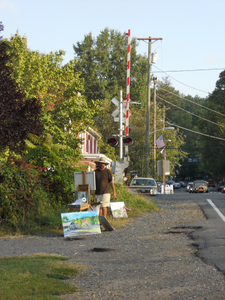 Today, Clifton has become a destination for gourmands looking for respite from the hectic pace of city life.  The historic Clifton Hotel had been converted into the exciting restaurant Trummers on Main.  This restaurant attracts day-trippers from nearby cities and satisfies their need for creative, delicious food and excellent service.
"Every Sunday we offer the bucket list", we were told by our server.  It was Sunday, yet we were not quite sure what to make of this slightly morbid statement.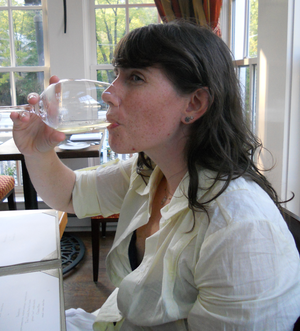 Anything on a bucket list is not to be missed so we inquired further, and we were pleased to find out that we were not going to be knocked off by our waitress!
Instead we were offered a selection of wines from an icy bucket at bargain prices.  These bottles were leftovers from Friday or Saturday nights that had been opened to be sold by the glass and we were more than happy to help finish them off!  From the bucket list we tried several delicious wines, including a couple of great wines made by Virginia wineries.
The food at Trummers equaled our wine in quality and affordability.  Also on Sunday nights the menu was limited to a three course prix-fixe at a very affordable price.  This limited menu allowed for the three of us to try nearly every dish on the menu that night!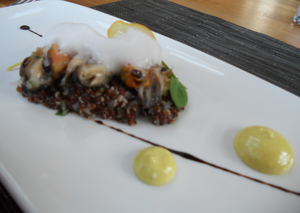 One appetizer channeled the seashore for visual, flavor, and textural inspiration.  A sextet of juicy, chilled mussels had been washed ashore onto a beach of red quinoa by a frothy wave of briny ocean foam.  Dots of curry emulsion were shipped in from India, and Balsamic glaze from Italy to decorate the plate and add richness, flavor, and intrigue to the dish.
Another starter featured Japanese flavors mixed with summer delicacies.  Seared tuna slices were dusted in nori seaweed powder for a strong umami weight on the tongue.  The tuna was garnished with dots of soy, pearls of sake, flakes of Panko breadcrumb

s, plump blueberries, and some refreshing cucumber slices that had been compressed into juicy cylinders and other crunchy baby cucumbers that looked like little watermelons!
Next, three flying-saucer bowls of some mysterious wonder arrived at our table "compliments of the chef!"  The servers described the process if this dish thoroughly.  "This is tomato-water risotto.  The chef macerates fresh tomatoes, red peppers, and basil and hangs the mixture in a cheese cloth to harvest the crystal-clear juice which he uses to cook and flavor the risotto."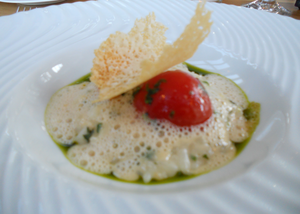 Ingenious!  This dish was a great lesson in the importance in using a great "stock" or cooking liquid to cook risotto.  All the fresh flavors of tomato (and none of the muddy ones) were captured in the clear tomato water and infused into the rice to create a dish that was bravely simple, brilliantly executed, and utterly delicious.
The flavorful risotto rice was cooked tender yet toothsome, and enriched with Parmesan cheese.  Accompaniments of fresh heirloom cherry tomatoes and a Parmesan foam and tuile further emphasized the flavors and added texture to the dish.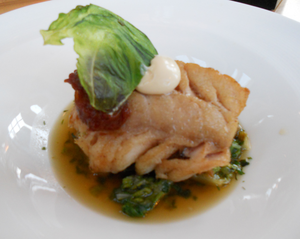 My entrée of tropical Tilefish was well-suited to follow the tough act of our risotto.  This flaky fish was fresh and moist.  It was served with braised lettuce (a flavor which I adore), sweet tomato jam, and chicken broth.  The dark, rich accompaniments served as a perfect backdrop to allow the white, delicate fish to shine–and my taste buds applauded this daring combination.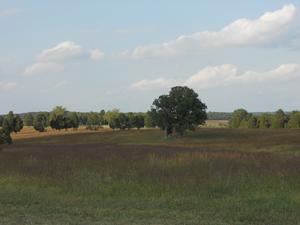 As we left through the bar at Trummers we passed portraits of Lincoln, Lee, and Grant that hung in the entrance to the old hotel.  These portraits acknowledged the history of Clifton while diplomatically recognizing the differences of the men portrayed.  On the drive home through the hills of Northern Virginia we passed trickling streams and chocolate brown equestrian fences that bordered fields of sun-scorched grass where horses grazed and patches of forest grew.  I appreciated this land of with its bountiful southern charm and unique elegance that is distinctly and unmistakeably Virginia.