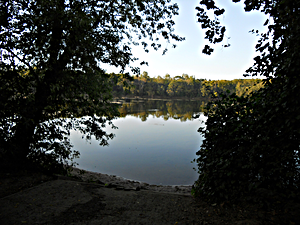 The Richmond, Virginia's web site said it right, this city is "easy to love"!  As the second English settlement in the country, Richmond is packed with a rich history that has helped to define our country. We gave ourselves just one day to take in Richmond, but with the help from my resident cousin Ran we got a great inside view of this place.
Ran shared the rich, diverse history of his beloved area with us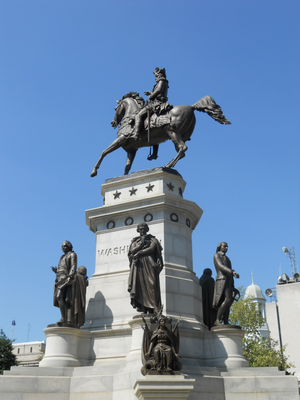 in a quick drive through the city, we explored the natural beauties of the James River, and we tasted some authentic Richmond food. What Ran really showed us was how much there was in the area; more then I could have ever guessed at first glance.
Throughout the former capital of the confederacy we saw grand statues of General Lee, "Stone Wall" Jackson, and Jefferson Davis amongst many others. Richmond, also known as the city of monuments, is now taking steps to remember a more difficult part of its history. People are also starting to recognize the roll of African Americans in building this country through a Richmond's new Black History Museum.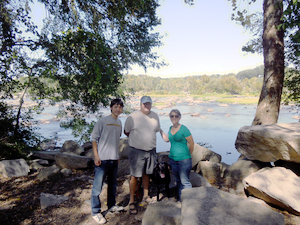 Another part of Richmond's history is the James River. Just beyond Ran's backyard, moments outside the bustle of the city lies a city-operated park that runs along the river.
The river has many different stages of rapids for thrill seekers, along with calmer areas great for getting in and cooling off. We took Millie, Ran's beautiful black lab, for a walk through the wooded pathways to a beach were Millie retrieved sticks from the water for us. Many other dogs could be found enjoying the area as well — it is a fun community gathering area.
Fishermen also lined the banks and tops of rocks that stood above the running water, waiting for an afternoon catch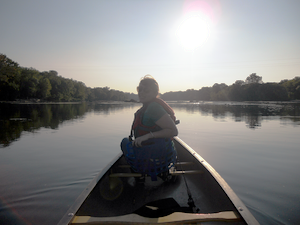 . Ran is an avid fisherman himself .  Millie and he enjoy spending lazy days on calmer parts of the river upstream from the rapids.
This area is where Ran set us up on his canoe, gave us a fishing poll and told us to have some fun. Though we didn't catch anything but a rusted old rod, we had a great time taking in this calm, serene place as the sun set over the city nearby.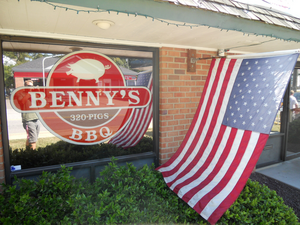 Just up the street from this amazing park, Ran took us to his local barbeque restaurant,  Benny's. Brian and I kept asking what style BBQ it was: east or west Carolinas, Taxes, or Memphis? Ran didn't quite know what to tell us and understandably so!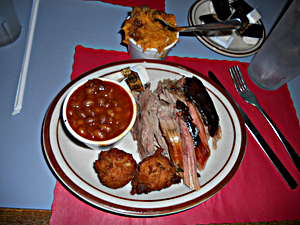 I got the pulled pork that was accompanied by hush-puppies, really good baked beans, and the day's special — sweet potato casserole. The pork was very tender, with a mild smokiness to it, but the star was really the house-made vinegar sauce in a large squeeze bottle on the table. They should be selling the uniquely Virginia sauce by the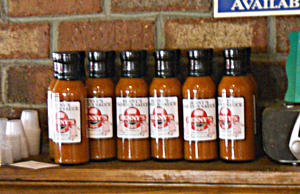 gallon!
When tasting this sauce, a strong vinegar flavor hits the tongue right away but is quickly followed by a splash of herbs and a mellow sweetness. The rich meatiness of the pulled pork is simply heightened by this unique vinegar sauce.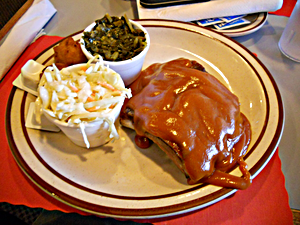 Brian had the ribs with coleslaw and collard greens. His ribs had a classic singe of well-smoked meat: a red smoke-ring around the edge of the ribs. They were coated with another Virginia specialty; peanut and honey sauce.
Peanut sauce is nothing like what you might imagine.  Although reminiscent of Asian peanut sauces, it's different from what' served at local Thai or Chinese restaurants. The honey peanut sauce is savory, not too salty but roasty and rich, a lot like the flavor of the ribs themselves. I thought afterwords "Of course, Virginia would have a peanut sauce on their BBQ, they also grow the best peanuts I've ever had!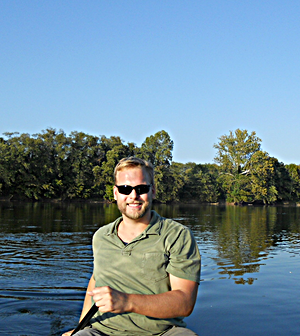 "
The capital city of Virginia is great, easy to enjoy, and there's something for everyone! History buffs, museum goers, shoppers, or white-water riders –whatever your reason just don't forget the food! It's like nothing else I have had in Virginia with flavors I won't soon forget. I'm amazed at how much Ran was able to pack into one quick, impromptu visit.  It just shows that an insider's guide is always the best route.