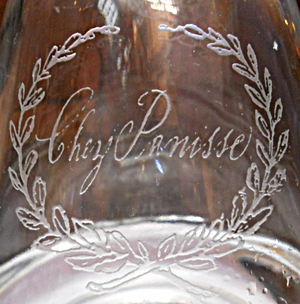 Nowadays I can't walk a few blocks with out seeing a restaurant advertising that they are serving local food. I think this is a great trend! I believe this is just getting back to basics. Over forty years ago a young Alice Waters returned to the basic way of life by severing local organic foods at her restaurant, Chez Panisse.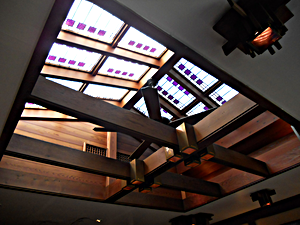 When we visited San Francisco we made sure the stop by the famed Chez Panisse in Berkley.  With our friend Haseeb we shared an amazing lunch that lived up to everything we had hoped for.  The Frank Lloyd Wright inspired dinning room was filled with sun and created a calm feeling as light poured through green glass windows.
We were fortunate to be some of the first arrivals of the day and were able to get a table without a reservation. Our server brought us a chilled carafe of still water and a bottle of their in-house sparkling.  We ordered a large menu to share and sat excitedly waiting to see what would arrive.
Warm, dark grain bread and lightly salted butter where given as a tease, to say "this is only the beginning." A thick and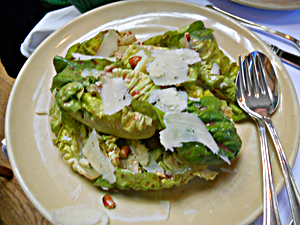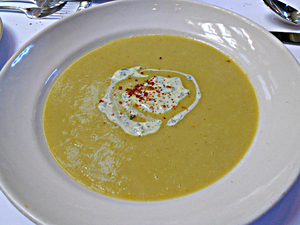 flaky crust gave way to a chewy, hearty, yet airy center.
Our first plate is a salad of bib lettuces tossed with roasted pecans and a amazing vinaigrette and topped with a few slices of Parmesan cheese.  This has got to be the best salad I had ever had. A perfect balance of flavors. The crunch and butteriness of the lettuces mixed salty, robust, fatty nuts and cheese made the perfect platform to the acidic vinaigrette.
I was full of excitement and good flavors still dancing in my mouth when our soup was placed between us. A light orange colored broth made of winter squash, decorated with a swirl of creamy curry sauce and a sprinkle of chili powder was awaiting us in the wide-brimmed bowl.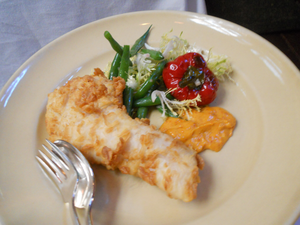 Steam rose slowly from the depth of the bowl filling our noses with the sweet aroma of squash. The soup was light and smooth in texture, not nearly as thick as I may have imagined. The flavors of the salt, pepper, curry, cream, and the spice from the chili perfectly accompanied the flavor of roasted squash.
Our main course arrived to oohs and aahs. It was a large piece of lightly fried rock fish served with a side of fresh, crisp green beans, a roasted pepper, and a paprika mayonnaise. The rock fish was tender, flaky, and flavorful.  A nice crust provided crunch, yet though it was fried there was no heavy oil flavor detectable.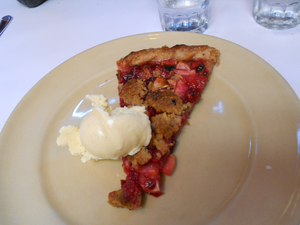 We excitedly ordered two desserts: a cranberry tart and three scoops of maple ice cream. The tart delivered the full flavor of the cranberries with a bit of orange zest and perfectly sweet. The crispy crust had a nice butter flavor that went very well with the tart cranberries. Such a simple and balanced dessert followed nicely after our meal.
The maple ice cream was a nice treat, the maple flavor was rich and strong, not overly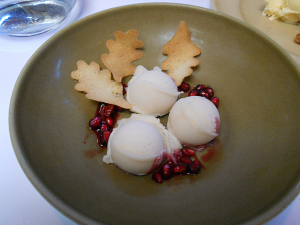 sweet, and complemented by a few pomegranate seeds. The ice cream was smooth and creamy, served at just the right temperature of not ice cold but not melting.
After our satisfying meal we took as stroll around the Berkley area and found ourselves at the door of Alice Waters other well known project The Edible School Yard at Martin Luther King Jr. Middle School.
Started over a decade ago in an acre of bare land near the restaurant Chez Panisse, The Edible Schoolyard has beco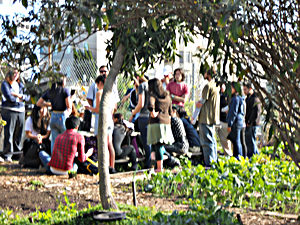 me a project that  inspires the rest of the country. Children from the MLK middle school get to learn and work in the garden.  They are taught how to grow there own food and then they get to take cooking classes–using what they are grown and turning it into dinner.
Alice Waters has changed the way Americans are eat. She has also opened doors for schools, children, and parents to change the way American children are eating and learning in school. The Edible Schoolyard is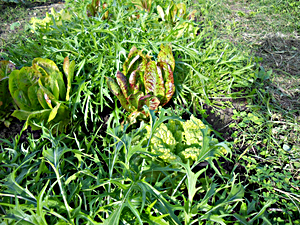 starting a new generation off on the right foot, helping kids to understand where food comes from and how to enjoy it.
We certainly will keep the flavors and ideals that we gained at Chez Panisse. It was an uplifting experience and an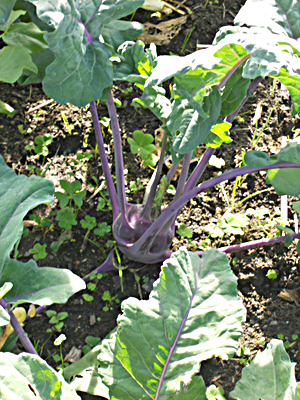 enlightening meal. So many places try to be true to the pure flavors of the food, but many fail. Chez Panisse does not! Ms. Water's restaurant is using real local food and serving it up right. Allowing to goodness to shine for itself. Hopefully the local food movement will continue to improve the way we eat all over the country. It is good to know where it started and how good it should be.