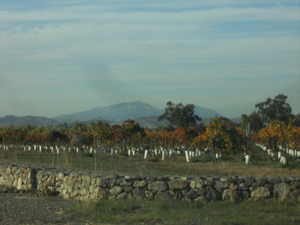 Did you know that great wines are made in the California's Livermore valley?  Everyone knows about the great wines produced in Napa and Sonoma, but Livermore?  Maybe not!
Livermore valley is close to Napa and Sonoma, about an hour's drive south toward San Jose, but it is a world apart from the flashiness and fanfare of its Northern Neighbors.  During the summer season, Napa and Sonoma's roads clog with motorcades of tourist who fuel themselves at the many hundreds of wine tasting rooms located within these haughty appellations.  The tasting rooms jam with people as elbows and talk of fruit and oakiness fly.
Compared to the cars and crowds of its Northern counterparts, Livermore valley can feel like (and is!) a breath of fresh air.  When driving the country roads to Livermore's wineries cows are a more common sight than cars, and tractors take up more road than tourists.  Livermore valley is still very rural, and in this there are charms.
Terrior is a French word commonly used when discussing wine.  This word describes the essence of a place—the smell of the soil, water, and air of a particular location.  These subtleties impart their unique flavors into the grapes which are then amplified through the wine making process.  Every great wine region in the world has a distinct terroir.
When it comes to overcrowded wine growing regions, do not believe that car exhaust fumes would improve the terrior of even the finest Reisling, a grape which is often revered for its distinct "petrol" aroma!
It comes to me as a s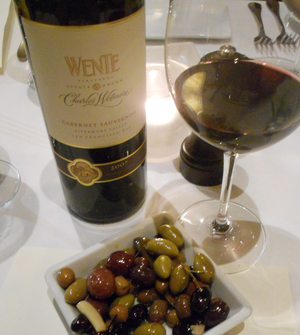 urprise that more people are not flocking to the Livermore Valley because this wine region has some world-class restaurants and wineries where they produce some wonderfully round and robust red wines, including the bomb Cabernet Savignon!
When Amanda and I arrived in Livermore, we met up with our friends John and Erin who took us to dinner at Wente Vineyard's restaurant for dinner.  In true California style, the restaurant at Wente showcased the best seasonal ingredients produced in the fertile valleys in and around Livermore.
To start our meal we all shared marinated olives and an appetizer of tangy goat cheese topped with buttery bread crumbs and served with grilled bread—a perfect accompaniment to Wente's creamy and crisp Morning Fog Chardonnay.
To accompany Wente's fruity, full bodied Cabernet Savignon I indulged in the restaurant's signature dish, smoked double-cut pork chop.  This chunky chop had a mild applewood smoke flavor and was smothered with a sweet, sour, and savory sauce of maple syrup, green apple, and onion.  These flavors were complimented by bitter kale and richened with a creamy polenta.
The following day w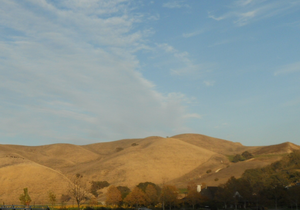 e returned to Wente Vineyards and the Stephen Kent Winery to try some more Livermore wines.  In the afternoon daylight we could see grapevines clinging to the steep, ochre hills that dwarf Wente's tasting room.  Things came into perspective once inside the tasting room.  The flavors of the wines at Wente were as big as the hills on which the grapes are grown.
As far as some California wine connoisseurs are concerned, Livermore Valley is synonymous with Cabernet Savignon, often referred to just as Cab.  The hot days and cool nights in the Livermore Valley are ideal for growing the Cabernet Savignon grape, and no single winery in Livermore is doing more to promote Cab than Steven Kent.  They do this simply by making great wine.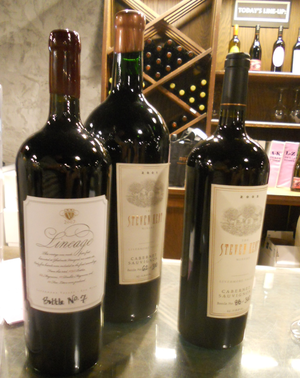 Steven Kent's Cabernet Savignon is at the same time bold and restrained–embracing the ripe, fruity flavors that California wines are know for, and balancing them with elegant notes of earth and oak that sustain for a long, applause-worthy finish.
The Livermore Valley offers California wine lovers a chance to escape from the tourist bottleneck that can be found just a short drive North in to some of the most recognizable regions in wine–Napa and Sonoma.  As all great wines need a chance to "breath" and "open up" before reaching their full potential, so may the connoisseurs.  In this case, Livermore is the perfect decanter!