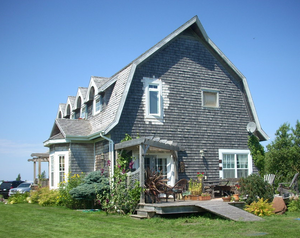 One of life's better experiences is brunch at the Pearl Cafe on Canada's Prince Edward Island.
On this lush and green island every turn in the road shows off another beautiful field, ocean beach or scenic inlet. But it's not just the views which are attractive, one secret to great dining on PEI is that almost everything you need for a full menu is local:
The Gouda lady makes her cheese daily.
The farmer brings in just-picked quarts of berries.
Cows, sheep and pigs eat quietly under the morning sun.
The potter down the road supplies cups and dishes.
The fishermen offer a daily haul of lobsters, mussels, oysters and scallops from their docks.
All of this comes together at the Pearl Cafe. Located in a charming North Rustico farm house, the Pearl has lush tones, art everywhere and the ambiance of a fine country inn. As it turns out, a very fine country inn — the Pearl won the Taste of the Island award in 2010 and in 2011 it was named by the Guardian newspaper as the "clear No. 1 restaurant in the province this year."
Brunch
So, on a beautiful Sunday afternoon we went for brunch at the Pearl Cafe.
As you approach the restaurant you instantly notice that it's set on a beautifully-landscaped area and backs up to an enormous farmer's field. There's a porch to one side and a green smoker in the back.
Inside, the restaurant is small (fewer than 40 seats, perhaps) and simply beautiful. The owner, Maxine Delaney, has an obvious eye for art and design. When we arrived Chef Brian Kaderavek sent out an amuse-bouche, a little something to get us started. In this case, it was crab with, I believe, Roquefort cheese on a brioche, a buttery toast.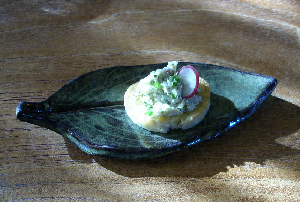 The crab was wonderful. I could have simply eaten more and ignored the rest of the menu, but then eggs Benedict over lobster arrived. It was set on a grilled buttermilk biscuit with chive hollandaise, crisp potato roesti and Soleil's dressed greens.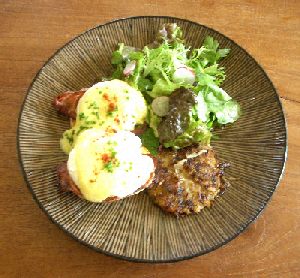 Everything is perfectly prepared and beautifully plated. You almost don't want to disturb what's in front of you.
Almost.
Then someone tried the buttermilk cornmeal flapjacks with rhubarb orange compote, citrus butter and vanilla chantilly served with maple and house-made rhubarb syrup.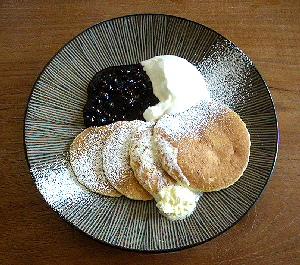 Along the way we encountered six baked Raspberry Point oysters on the half-shell with spinach, bacon and aged gouda breadcrumbs. They arrived in a dish that looked like a wooden canoe. The oysters were terrific and Raspberry Point is just down the road.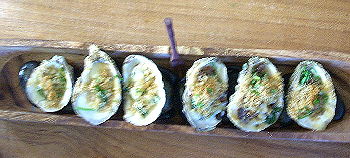 Also at the table someone ordered a roasted Van Kampen cherry tomato omelet with aged white cheddar served with potato roesti and a side of greens.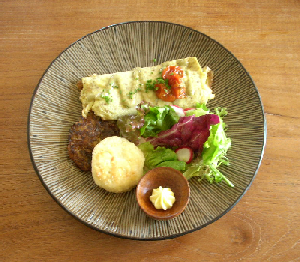 Desserts
Brunch without dessert is like a car without tires, it just doesn't work. To compliment Brian's dishes we had three of Pastry Chef Amanda Miller's desserts:
First, was a chocolate torte (cake) with dark chocolate ice cream and cherries soaked in port wine.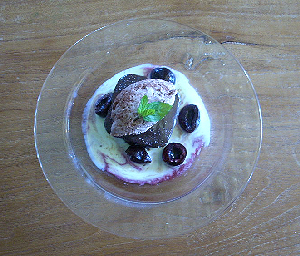 Second, was a honey cake with oak brown sugar crumble, cinnamon whipped cream and black current sauce.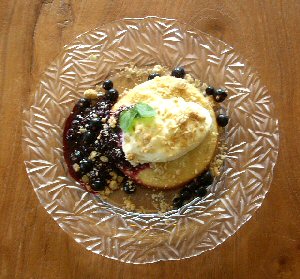 Third, was Bavarian cream pie with just-picked raspberries.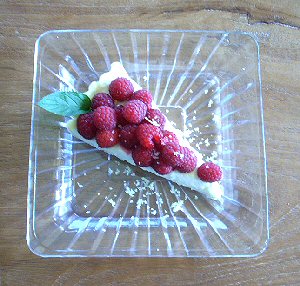 I'm not a restaurant critic and I surely have my biases — I am, after all, Amanda's father.
That said, the descriptions and photos speak for themselves: Brian and Amanda have done an incredible job, Maxine has a wonderful restaurant, Prince Edward Island is stunningly-beautiful and if you have the opportunity to eat at the Pearl Cafe why would you deny yourself such a great pleasure?