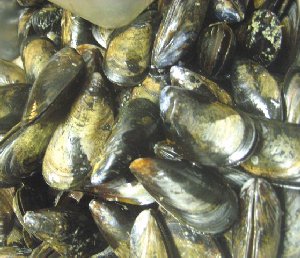 I have been lucky to have my aunt Polly to travel with; she has taken me along in her adventures from the Bahamas to Italy to some of my first trips to New York City. One early summer evening recently Polly took us to discover Occoquan, Virginia, a town south of Washington, DC.
Once a bustling mill town, a hundred years later this town has been transformed into a new little hot spot. The river that once helped power the saw and grits mill now draws people to this area once more.
With new life coming into the area due to new condos, the area is reemerging into a great summer town. From cute clothes shops and a small stand that sells just lemonade–there's something for everyone. There are a few different dinning options but Polly knew where she wanted to take us on this adventure.

Polly had us to try a Belgian place called Cock & Bowl. We found ourselves at the entrance to a relaxed outdoor dining area where you could feel the cool breeze coming off the Occoquan River.
The patio was full on this calm Friday evening,  as the town appeared to have fully closed down by the time we were about to eat.  It  was only six in the evening. That was fine by us though, we were ready to travel together with our new friends to Belgium.
With 41 different types of bottled beer, the Cock & Bowl can seem pretty intimidating. Luckily, our server, Al, was very knowledgeable and was able to help us make the right choice. When Brian was asked if he wanted to try the best beer in the world he of course said, "Sure why not!"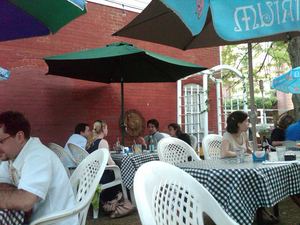 St. Bernardus: Abt 12 was brought to him and sure enough he got what was promised. High alcohol content, long-fermented and dark chocolate-colored beer was full of spices and brown sugar and layer after layer of flavors. After each sip this beer became more complex and interesting.  Polly even had to order one herself to enjoy. Everyone should give this a try if you come across it.
I had the Chimay Cinq Cent beer; a hoppy, dry beer with a full body. This amber beer is not messing around with hints of dry grapes and fruity muscat–it was a great choice.
First, we got an order of Pommes frites, Belgian fries, fresh as can be, served with yummy mayonnaise and mussels served in the style of Escargot.  Mussels baked with garlic, butter, and bread crumbs; I mean, how can  you go wrong!
We shared two different orders of mussels, they had nine different choices and it was more then enough food to fill us up. We had the Moules de Terre.  We also had one of the owners, Michael's, favorites: mussels cooked with bacon and spinach. This sounds pretty good, and it was, but nothing compared to our other bowl.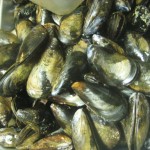 The Hoegaarden was another large bowl of overflowing mussels covered in delicious beer, vegetables, and herbs. They were super tender and the veggies just soaked up the flavors of the beer and mussels. This is a "must have."
We were all stuffed, but just couldn't resist the draw of the homemade Belgium waffles. We had ours topped with fresh berries and whipped cream.  It was totally worth the ache of our bellies being so full! The berries were sweet and the cream nice and cool on the warm waffle.
The charm of the quiet waterfront town only made our experience that much better. With the sounds of the water off in the background and the wonderful air blowing through the patio together we shared an outstanding meal. The great laidback, family atmosphere of the owners who are wandering outside to enjoy the nice weather with us just make you feel at home.
Occoquan is still reminiscent of the old mill town in which it was years ago. Enjoy the views and smells of the water and the shops in old buildings. You can be swept away by the easygoing atmosphere of the Belgium bistro and all the wonderful beer all summer long.